There are many reasons people choose to live in a particular city. They may have been born in the area, or a new career or relationship may have caused them to relocate. Some people choose to live in a city based on the activities or vibe represented by the location. Life is a constant motion of changes, and sometimes that change takes you to a new home. Living in a city like Bend, Oregon, will give you many reasons to love where you live — regardless of how you got there.

Oregon is a stunning state. Pure natural beauty outweighs urban life throughout the region. From the coast of the Pacific Ocean to the National forested areas crossing into Idaho, the possibility for outdoor recreation is limitless. Cities like Bend give residents the opportunity for a small-town urban experience while engulfed in the surrounding nature. Bend real estate opportunities provide seclusion and privacy that you cannot get in other areas.
A small-town feel with a great downtown
People join together for many purposes; an important reason is socialization. Nature is stunning and creates a sense of connection that we often cannot get from other sources, but it can also become lonely. Spending all your time in a Bend luxury home surrounded by gorgeous mountain views and towering trees might lose some of its potency without the occasional social outing. The city of Bend has enough action to drive away any feeling of loneliness while still allowing for a quick escape back into the wilderness when you crave solitude.
Historically, Bend was a logging town, but today, the trees provide the structure for the outdoor haven it has become. A growing population demonstrates that Bend real estate is worth considering for those looking for a space that offers the perfect blend of solitude and urban life. Bend's
US Census
2020 report determined the population to be 99,178, increasing over 20,000 people from the 2010 report. The addition of people to the city creates new businesses and a thriving economy.
Downtown charm with great shopping, dining, and educational opportunities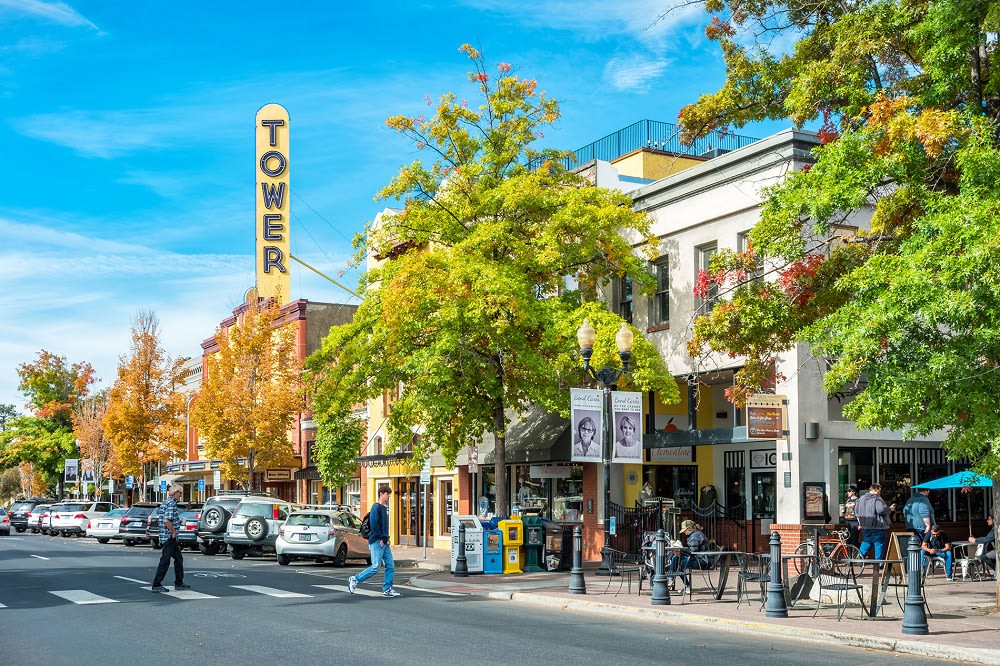 Bend's downtown bursts with charm and local shops. Stroll the area to find handmade jewelry, bookstores, local crafts, and high-end clothing. Local salons offer manicures, pedicures, and hair services. Multi-purpose buildings maintain small shops on the bottom floor with luxury condos on the upper floors. Ponderosa pines line the street along the park providing a scenic backdrop to the upscale homes located in the area.
Creative restaurants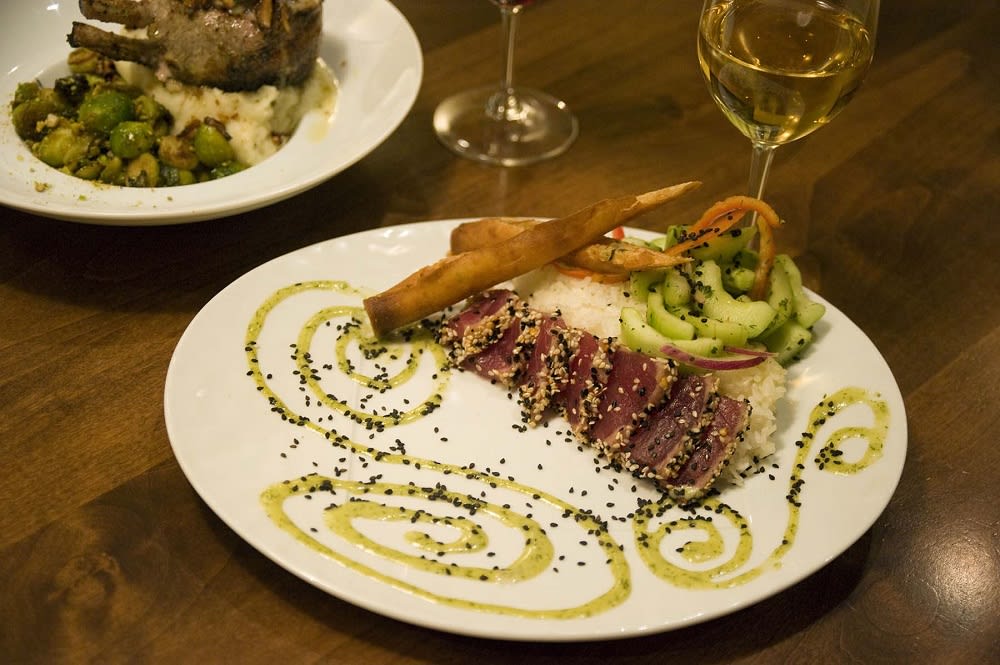 Photo courtesy Zydeco Kitchen & Cocktails
The positives of small city living are tremendous — just ask anyone who currently owns Bend luxury homes. Less traffic, fewer people, larger homes, and less noise are things people crave when deciding to move. When speaking to people who have moved from a central metropolitan area to a smaller city, the number one thing people miss is the availability of restaurants with varying cuisines. Bend restaurant options help lessen the feeling of missing food by providing a wide selection of ethnic options. The charming
5 Fusion & Sushi Bar
sources local items to offer fine seafood when available. Are you hoping to gather with a few friends and enjoy some Tapas and Paella?
Barrio
has Latin-inspired dishes for your enjoyment. Currently, you can enjoy their fantastic cuisine from food trucks located downtown.
Zydeco
is an award-winning restaurant serving northwest-specific dishes by renowned chefs. Japanese, Peruvian, and American food options offer plenty of flavors to explore.
Craft beverages
The craft beverage scene in Bend has something for everyone to enjoy. A collaboration across the entire Bend region, the
Bend Ale Trail
has developed an app for a "beerventure" you will love to explore. Seven territories, each with its own list of stops, take you to downtown historic areas and out of town to the far north where an all-terrain vehicle is needed. Each visit will expose you to interesting facts about the territory and provide you with great drinks along the way. In most stops, you will find the brewer or winemaker in-house waiting to give you the history of their business and how they make their craft.
Natural beauty

Mountains, rivers, towering trees, and a semi-arid climate create the perfect combination to immerse oneself into nature. You do not have to be an outdoor sports adventurer to enjoy the beauty. Contemporary Bend luxury homes immerse you into this stunning beauty. Three hundred days of sunshine allow your home to harvest alternative energies to create a sustainable home. Grand windows throughout homes provide you with views of the Cascade mountains and the ponderosa pines spread across acres of land. Abundant wildlife is available for you to watch from the comfort of your couch.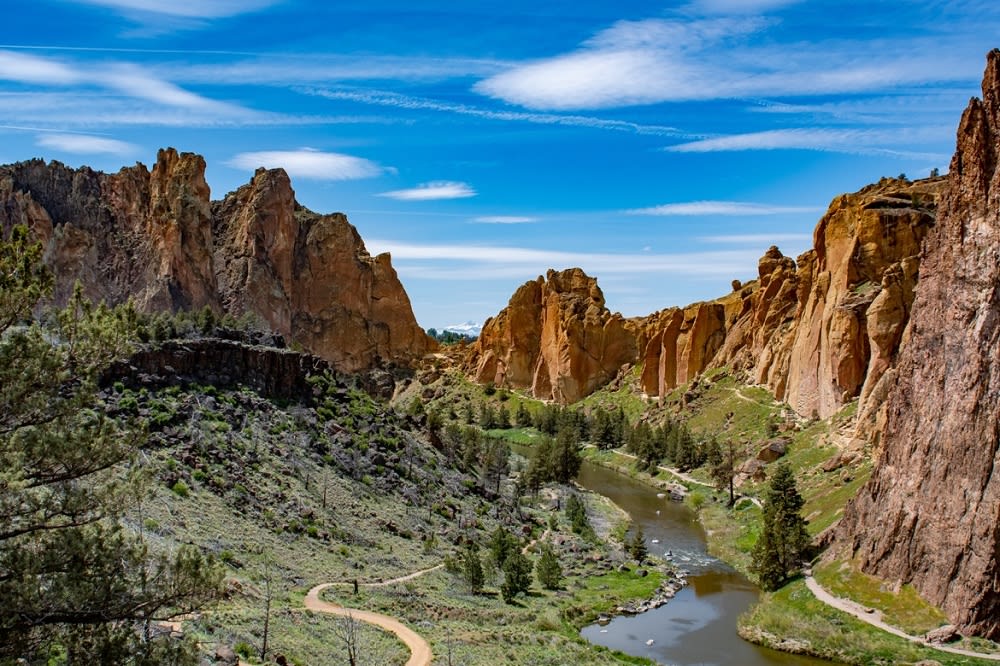 Photo courtesy of The Gorge Guide, Smith Rock State Park
Are you craving more adventure? The year-round activities available when investing in Bend real estate will help you satisfy the craving. Mount Bachelor will give you hundreds of acres of skiing and snowboarding during the winter months and hiking during the summer. Adrenaline pumping action on Phil's Trail, a classic XC mountain biking trail, will give you fantastic views and some tight switchbacks to concur.
Biking the Sisters to Smith Rock Scenic Bikeway gives you a gentler ride with historical sites along the path. Hike the Misery Ridge Loop Trail in Smith Rock State Park to achieve magnificent views of the desert landscape below. Visit the filled lava flows, lakes, and lava tubes at the
Newberry National Volcanic Monument
. The Deschutes River provides outstanding opportunities for kayaking or floating on the river. You can launch from downtown or use the river shuttle for back-and-forth transportation. Year-round endless activities are available when you live in Bend.
Choosing to purchase Bend luxury homes for full-time living, retirement, or vacationing will fill your life with natural splendor and relaxation with no need for giving up those much-needed urban amenities. Ready to make a move? Reach out to trusted Bend real estate agent
Amanda Johnson
for expert assistance.